Connect with your social network account
Moderator: mrfisho
Second trip out today for the season as with recent medical problems I have not fished the local bays for around 3 or 4 months .. Today I had Ash with me and we headed for Westernport .. We managed one for the evening which is fine by me as now the Red tide is starting .. Still freezing cold water out there I would not expect many big catches for a few weeks yet .. We certainly spotted some good fish but only managed to get the one to take the bait.. Weed was a huge pain trying to hold bottom ..
Might be out again tomorrow evening ..
Ash with his fish was around 3kg .. or close to anyway ..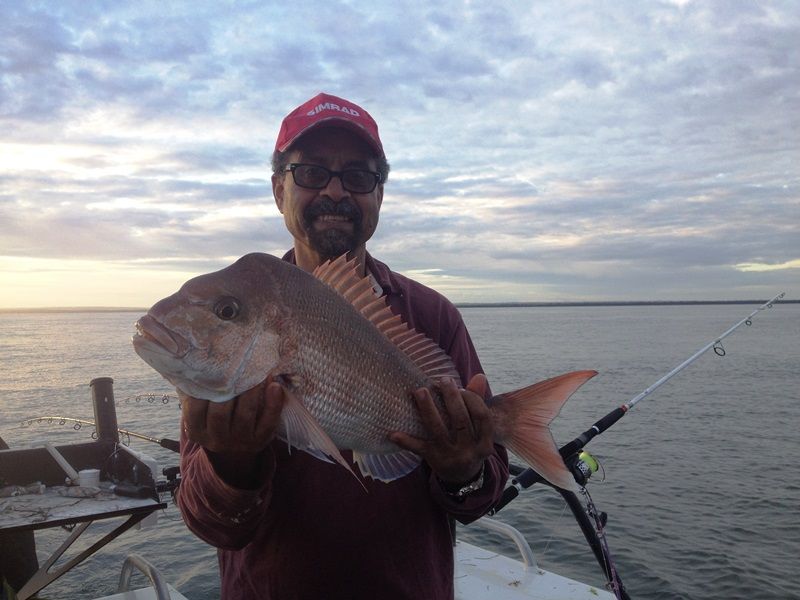 Check out the water !
What an arvo !
Cheers
Mick
Posts: 0
Joined: Mon Dec 21, 2009 12:00 am
Location: Bayswater
Nice to see you back on the water Mick,
and hope the health is on the improve.
Cheers
John
Well done lads we be seeing red every were very shortly
Myself and Damige were out there yesterday also. Hard days fishing (Once Rup had finished playing with his dog that he told to meet us at the bait ground) we were out from low tide through to 6pm with a horendous amout of frogs between us, lots of weed causing no end of problems holding ground. We must have moved about 6 times top end to bottom to middle and ended up with 1 3.5kg red right at the end of the day. It was the best days sick i have ever had !
Very hard going but great day to be on the water - even if i was too ill to go to work ! :O)
Doughnut King of the South East :shock:
Well done boys, it was perfect yesterday evening. Got out last minute decision solo to patto and fished for 4 or so hours and got my first for the season on my first trip, only a scoollie 1.6kg best size for the bbq tonight.
Return to "Snapper Westernport"
Who is online
Users browsing this forum: No registered users and 2 guests